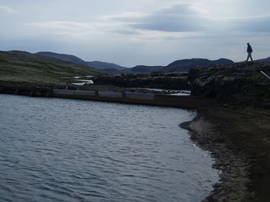 Langavatn in Mýrar
Location:
Langavatn is located in Langidalur in Mýrasýslu, belonging to the Borgarbyggð county.
Distance from Reykjavík and the nearest township:
The distance from Reykjavik is roughly 100 km, through Hvalfjarðargöng (Hvalfjörður Tunnel) on Highway 1 through Borgarnes and Svignaskarð. From Svignaskarð one drives about 13 km on a road on the left bank of Gljúfurá River.
Information about the lake:
The lake covers an area of 5,1 km2 and rises to 215 m above sea level. The lake has the max. depth of 36 m. A well renowned salmon river, Langá, runs from Langavatn to the south. One might expect to catch a salmon at the river's mouth.
Fishing area:
No restrictions.
Accommodation:
Camping is free of charge, however there are no toilets or any other hygiene facilities.
Fishing potential:
Langavatn harbours both char and brown trout, large and small. Fishing in nets is prohitibited to cardholders.
Daily opening hours:
Fishing is allowed from 07:00 to midnight
Season :
15th of June to 20th September.
Bait:
Bait allowed: fly, worm and lure.
Best time of the year:
Late spring and early summer are the prime time.
Rules:
Cardholders must carry the Veiðikortið and an appropriate ID on their person, ready for inspection at any time. Littering is strictly forbidden. Children under 14 are allowed for free, if accompanied by adult cardholders.
The catch must be announced to veidikortid@veidikortid.is or at www.veidikortid.is
Contact:
SVFR www.svfr.is Tel. (+354-568-6050)
{pgsimple id=22|caption=0|tsize=medium|tmax=20|imax=200|close=1}
{weather 1}