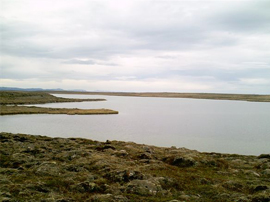 Aedarvatn on Melrakkaslétta
Location:
Hraunhafnarvatn, Æðarvatn and Arnarvatn are located in Presthólahreppur in Melrakkaslétta, at the N-Eastern corner of Iceland.
Distance from Reykjavík and the nearest township
The distance from Reykjavik is 610 km, via Holaheidi, and 10 km from Hraunhafnarvatn to Raufarhöfn, a village situated in the North-East of Iceland.
Practical information
Hraunhafnarvatn is the largest lake in Melrakkaslétta, and covers about 3, 4 km2. It rises to 2 m above sea level; with the deepest point at approx. 4 m. Æðarvatn and Arnarvatn are much smaller.
Fishing area:
Fishing is only allowed in the property of Skinnalón (marked on the map).
Accommodation:
Camping is permitted in the designated area, without proper facilities however. The campsite at Raufarhöfn is quite lovely and Hotel Norðurljós can offer various possibilities as well as Nest Gusthouse www.nesthouse.is at Raufarhöfn.
Fishing potential
One can expect char and brown trout in both Hraunhafnarvatn and Æðarvatn, usually quite large. Brown trout is more common in Arnarvatn.
Fishing hours
No restrictions.
Fishing season
The fishing season is between May 1st and September 30th.
Bait:
All bait is allowed: fly, worm and lure.
Best time of day
There is an equal distribution throughout the day.
Rules
Cardholders must carry the Veiðikortið and an appropriate ID on their person, ready for inspection at any time. Littering is strictly forbidden. Children under 14 are allowed for free, if accompanied by adult cardholders.
The catch must be announced to veidikortid@veidikortid.is.
Contact / Landlord:
Halldór Þórólfsson, Tel: (+354) 863-8468.
{pgsimple id=16|caption=0|tsize=medium|tmax=20|imax=200|close=1}
{weather 5}