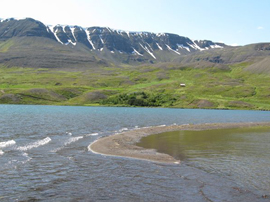 Location:
Ljósavatn is at Ljósavatnsskarð, Suður-Þingeyjarsýslu, to the east of Akureyri, the capital of Northern Iceland.
Distance from Reykjavík and the nearest township:
You drive eastward through Akureyri, in the direction of Húsavík. The lake is situated approx. 25 km. from Akureyri and 415 km from Reykjavík, through the Vaðlaheiðargöng (Tunnel).
Practical information:
Ljósavatn rises to 105 m. above sea level, covering just about 3.2 km2. The deepest point is 35 m., with an average deep of 10 m.
Ljósavatn has become increasingly popular, particularly among families, who like to combine camping and fishing. Highway 1 runs directly to the lake, and thus provides an easy access.
Ljósavatn has various tributaries, including Geitá and Litlutjarnarlæk. Djúpá is its main outflow.
Fishing area:
See map for restricted area in the land of Vatnsendi.
Accommodation:
Organised campsites are located near the lake.
Permits can be bought at Sigríðarstaðir and Fosshóll.
Fishing potential:
Char and brown trout..
Daily Opening Hours:
No limits.
Season:
May 20th to September 30th.
Bait:
All bait is allowed: Fly, worm and lure.
Best time of the year:
The best catch is early in the early season, particularly in May, June and early July.
Rules:
Littering and off-road driving is strictly forbidden. Cardholders must sign up at one of the places of contact and show both the Veiðikortið and an appropriate ID. Children under 14 are allowed for free, if accompanied by adult cardholder.
Contacts/Landlords:
Sigurður Birgisson, Krossi, tel. (+354)894-957 Kross and Hulda Svanbergsdottir, Krossi tel. (+354)868-1975.
{pgsimple id=5|caption=0|tsize=medium|tmax=20|imax=200|close=1}
{weather 5}