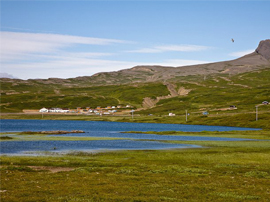 Location:
Berufjarðarvatn is at Berufjörður in Reykhólahreppur,
East-Barðastrandasýsla. It is just by Hotel Bjarkarlundur and it is about 150km from Borgarnes, and 215km from Reykjavik if you drive through the Hvalfjordur Tunnel.
About the lake:
Berufjarðarvatn is rather small lake or about 0,15 km2. It is rather shallow on the west side but deeper on the east side. The lake is 49m above sea level and is 2m where it is deepest. It is only 600m long and 300 m were it is widest. It is best to access it by car by driving to the north east part of the lake, just down from Hotel Bjarkarlundur.
Fishing area:
VFishing is allowed in the whole lake but most popular spots are on the east banks near the road. Most accessible and also deepest. The west side is rather shallow as mentioned earlier, but fish can be expected everywhere in the lake.
Accommodation:
Hótel Bjarkalundur is just 400m from the lake. There are of course hotel and also nice camping area with electricity and showers facilities. Tel. 434-7762 og 434-7863, bjarkalundur@bjarkalundur.is.
Fishing potential:
Mainly brown trout but also small char. Most common size is 1-3 pounds. The biggest brown trout catched in the lake that is known weigted 10 pounds.
Fishing hours:
From 07:00 to 23.00.
Season:
The fishing season starts 15th of May and it ends 15th of September.
Bait:
Worms, spinners and fly fishing can be very effective.
Best time of the year:
Fish can be caught all season but the early summertime is always better. Like every lake that keeps brown trout, the evening and morgnings can be very effective.
Rules:
Cardholders need to register at Hótel Bjarkalundur, were card number and ID number are registered. Please don´t leave any litter or other sign unless your footsteps. Offroading is strightly forbidden. Children under the age of 14 fish for free accompanied by cardholder.
Contact:
All information are at Hótel Bjarkalundi.
{pgsimple id=21|caption=0|tsize=medium|tmax=20|imax=200|close=1}
{weather 3}