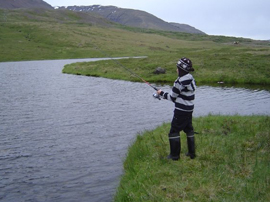 Haugatjarnir
(The Haugar Ponds)
Location:
Haugatjarnir are located in Skriðdalur, on the East coast of Iceland.
Distance from Reykjavík and the nearest town:
Distance from Reykjavík is 650 km, and 35 km from Egilsstaðir.
Practical information:
The Haugatjarnir is comprised of two large ponds, packed with fish and easily accessible.
Fishing area:
No restrictions.
Accommodation:
No organized campsite is available, one may however camp wherever possible.
Fishing potential:
One can only expect brown trout.
Fishing hours:
No restrictions.
Season:
May 1st to September 30th.
Bait:
All bait is allowed: fly, worm and lure.
Best season:
There is an equal prospect throughout the season.
Rules:
Littering and off-road driving is prohibited.
Cardholders must register at the place of contact, showing both the Veiðikortið and an appropriate ID. Children under 14 are allowed for free, if accompanied by an adult cardholder.
Contact / Landlord:
Hugrún Sveinsdóttir, Haugar. Tel: (+354) 892-7813.
{pgsimple id=27|caption=0|tsize=medium|tmax=20|imax=200|close=1}
{weather 7}